Our congregation welcomes you with open arms. Throughout the years, we continue to grow our Ministry! Come join us!
Church history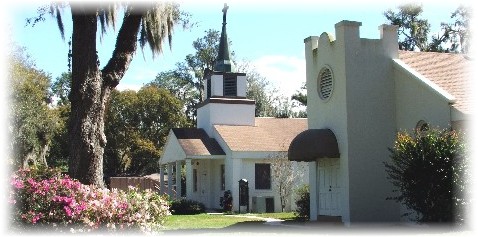 Nestled under majestic oaks in Bartow, FL. (the city of oaks and azaleas), the cornerstone of the original building was laid March 3rd, 1945, and the "McLeod Memorial Chapel" was opened by the First Presbyterian Church on June 30, 1946. McLeod Memorial Presbyterian Church began as a Sunday school, and in 1946 achieved the status of a mission of First Presbyterian Church. In that year, the Church building was erected on property given for the purpose by Mrs. A. A. McLeod. The first morning services were held at the Chapel June 6th, 1948. In 1950, an eight room manse was built West of the Chapel building. The mission became a full-fleged Church Sunday, March 18th, 1952.
Groundbreaking for the current sanctuary took place Sunday, December 12th, 1954. This new sanctuary was to be air-conditioned, and the previous building would be converted into Sunday school classrooms. A consecration service for the new sanctuary was held May 29th, 1955. The Larrick Hall addition (which currently houses Sunday school classes) was completed in 1960. The air-conditioned wing contains eight classrooms, two washrooms, and storage facilities. In 1992, the current sanctuary was renovated. These renovations allowed the sanctuary to remain a beautiful place to worship.
Tributes
To all the folks that worship here
Sing praises unto God;
There's many things that should be done
E're we're laid beneath the sod.
One of the first things to be done
Is to sing her praises loud,
And that, my friends would surely be
To our Matron Saint McLeod.
Of another one I'd like to speak,
Our Brother Bill McSwain.
I often think how nice twould be
If he were here again.
Then Dr. Hudson came to us,
And told of God's great Love,
May he sit among the angels
And sing with hosts above.
Once of the best & I declare
Brings many memories back,
To the inspiration given us
By our little Tampa Jack.
Paul Daniels gives us food for thought
At every worship hour.
How can we help but realize
God's mighty, saving power?
Let's put our shoulder to the wheel
And work with all our might
to make this Church a Holy place
E're the coming of the night.
Let's make this Church of ours a place
Of fellowship & Love,
And pave the way to meet again
In that fair land above.
-By Oliver Amerman (1891 – 1963)